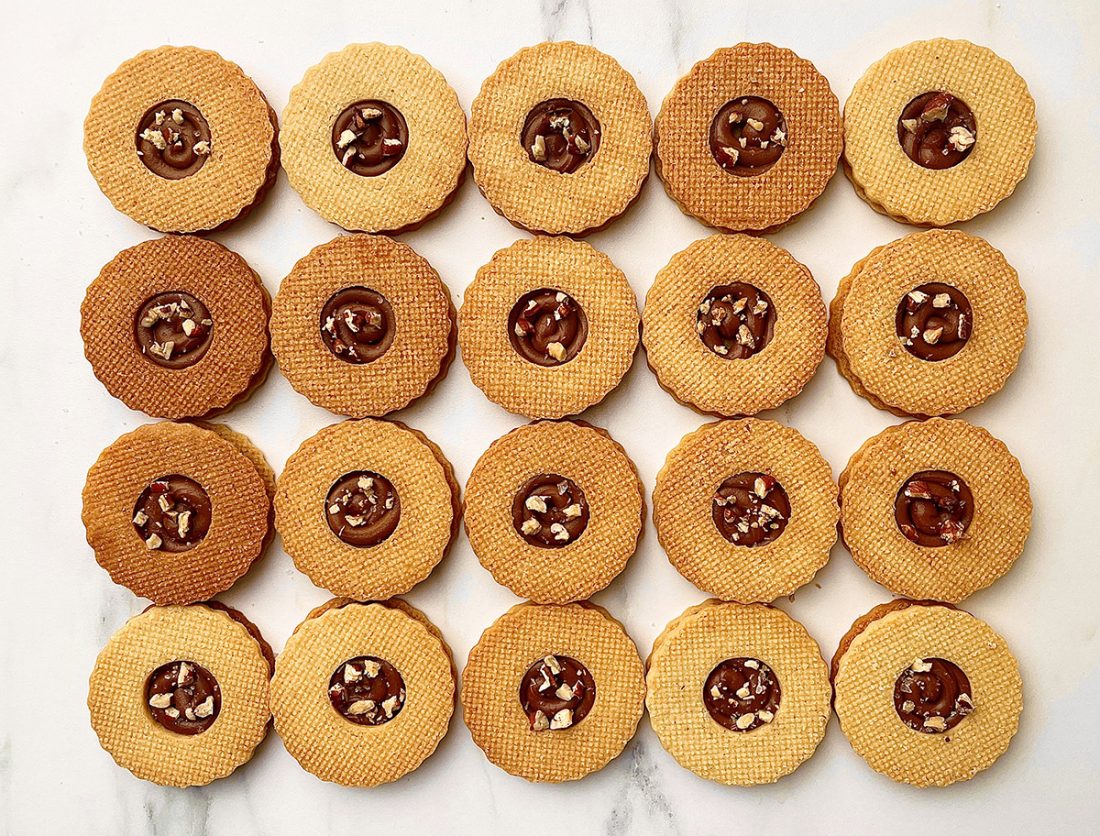 Shortcrust pastry:
200g butter
80g icing sugar
20g egg yolks
280g flour
2g baking powder
3g salt
Mix flour with icing sugar, baking powder and salt. Then add butter and mix until crumbly. At the end, add the egg yolks and mix until smooth. Roll out the dough 2-3 mm thick using a film or parchment paper, put in the refrigerator for several hours. Cut out circles with a 6/2cm cutters and place on a perforated mat, cover with a second mat. Bake at 160C for 10-15 minutes until done. Let it cool before assembly.

Caramel:
60 g sugar
90 g cream 30-35%
35 g butter
vanilla
65g milk chocolate 44%
Heat the cream almost to a boil. Melt sugar in a saucepan until caramelized. Add the hot cream to the saucepan in a few steps, stirring everything with a spatula until the lumps are dissolved.
Add vanilla, boil for about a minute. Cool to 85C and pour over the chocolate. Stir with a blender,
cool to 45C and add cold butter, mix again with a blender. Leave to stabilize for several hours at room temperature in a pastry bag.
Assembling:
Using a pastry bag, pipe the caramel over the cookies. Sprinkle it with salt and cover with the second cookie. Sprinkle with nuts.

Note:
For perfect cookies or tarts, I recommend using a perforated mat
and wire rack. In the absence of it, you can also bake simply on
parchment paper.
Bon appetit!
Карамельное печенье
Песочное тесто:
200г сливочное масло
80г сахарная пудра
20г желток
280г мука
2г разрыхлитель
3г соль
Смешать муку с сахарной пудрой, разрыхлителем и солью. Затем добавить сливочное масло и смешать до состояния крошки. В самом конце добавить желток и смешать до однородности. Раскатать толщиной 2-3мм используя пленку или пергамент, убрать в холодильник на несколько часов. Вырезать круги вырубками 6/2см и выложить на перфорированный коврик, накрыть вторым ковриком. Выпекать при температуре 160С 10-15 мин до готовности. Охладить перед сборкой
Карамель:
60г сахар
90г сливки 30-35%
35г сливочное масло
ваниль
65г молочного шоколада 44%
Сливки нагреть почти до кипения. Сахар растопить в сотейнике до карамельного цвета. Добавить частями горячие сливки в сотейник, размешивая все лопаткой до растворения комочков. Добавить ваниль, проварить около минуты. Остудить до 85С и вылить на шоколад. Размешать при помощи блендера, остудить до 45 градусов и добавить холодное сливочное масло, опять размешать блендером. Оставить стабилизироваться на несколько часов при комнатной температуре в кондитерском мешке.

Сборка:
С помощью кондитерского мешка выложить карамель на печенье. Посыпать солью и накрыть вторым печеньем. Посыпать орехами.

Примечание:
Для идеального печенья или тартов я советую использовать перфорированный коврик и решетку. При отсутствии также можно печь просто на пергаменте.
Приятного аппетита!
Карамельне печиво
Пісочне тісто:
200г вершкове масло
80г цукрова пудра
20г жовток
280г борошно
2г розпушувач
3г сіль
Змішати борошно із цукровою пудрою, розпушувачем і сіллю. Потім додати вершкове масло і змішати до стану крихти. Наприкінці додати жовток і змішати до однорідності. Розкачати завтовшки 2-3 мм використовуючи плівку або перг прибрати в холодильник на кілька годин. Вирізати кола вирубками 6/2см і викласти на перфорований килимок, накрити другим килимком. Випікати при температурі 160С 10-15 хв до готовності. Охолодити перед збиранням

Карамель:
60г цукор
90г вершки 30-35%
35г вершкове масло
ваніль
65г молочного шоколаду 40%
Вершки нагріти майже до кипіння. Цукор розтопити у сотейнику до карамельного кольору. Додати частинами гарячі вершки до сотейника, розмішуючи все лопаткою до розчинення грудочок. Додати ваніль, проварити близько хвилини.
Охолодити до 85С та вилити на шоколад. Розмішати за допомогою блендера, остудити до 45С і додати холодне вершкове масло, знову розмішати блендером. Залишити стабілізуватися на кілька годин при кімнатній температурі в кондитерському мішку.
Збирання:
За допомогою кондитерського мішка викласти карамель на
печиво. Посипати сіллю та накрити другим печивом.
Посипати горіхами.
Примітка:
Для ідеального печива або тартів я раджу використовувати
перфорований килимок та решітку. За їх відсутності також
можна пекти просто на пергаменті.
Смачного!